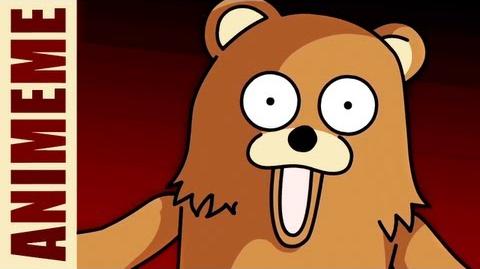 Pedobear is the fifth episode of the first season of animeme. It was released on September 25, 2012.
Teen Girl: IT'S NOT JUST A PHASE!
I'm a cat, mom, just accept it
---
You know how they say, like, God's inside you?
I hope he likes raspberry newtons, cause that's what he's gonna get
---
Almost Politically Correct Redneck
I respect other people's religion
Even if they are wrong....and burnin' in hell
---
(gasps) A quesadilla
is just a Mexican grilled cheese
---
Roses are red, violets are blue
(burps) I suck at poetry, show me your tits
---
A teen male is working on his car, when suddenly, Annoying Facebook Girl pops up froms a bush, takes a picture or him, alerting him, and she goes back into the bush
I am soooo in love
No one could ever replace what I feel for him
---
Why can't Amy Winehouse drive?
Because she's dead. Fucking DEAD.
---
A man is rolling a spoll of tape, looking for the start of it, humming happily. He rolls it for a while, still not finding the start of it and slowly gets more and more enraged
WHERE'S THE BEGINNING OF THIS FUCKING SHIT?!
---
I never knew my father
had such diversified portfolio
---
Make eye contact with a black person
They think I'm a racist
---
Your boyfriend is meeting the family today?
Gonna have to hump the living hell out of his leg. Yeeeeehahahah!
---
A little boy and girl are riding on a rollercoaster. Suddenly, pedobear rises from the back seat
Disembodied voice: ARE YA READY KIDS?!
Music plays as the camera back outs. When the ride ends, Pedobear jumps out of the cart and runs away, wearing the boy's cap while Forever Alone comes up in a cart behind them, with no one else, of course.
---
I don't always carry all the groceries in one trip
But when I do, I feel like Hercules
---
Grandma finds the Internet
Clippy: Hey, fucktard! You spelt your name wrong (groans in frustration)
Grandma: This really is amazing
A talking paperclip
---
Overly Attached Girlfriend
I had a dream where we broke up and I killed your family
Lol